Ecotourism in Long Semadoh, Sarawak, Malaysia
Langit has been running harvest and experiential trips for 3 years now. It focuses on letting participants experience the culture, food and environment of Long Semadoh. 
More recently, there has been some initiatives to develop more tourism attractions in and around Long Semadoh. One of them is what is loosely termed as the Heritage Trail:
This is a 2D1N trek starting from Puneng Trusan, the most upriver village of Long Semadoh, heading towards Long Pa' Sia' in Sabah.
Distance – 20Km
Days required – 2D/1N Total Elevation Gain – 570m
Highest Point – Overnight campsite 1350m asl Difficulty – Moderate
Accommodation – Semi-open shelters 
Highlights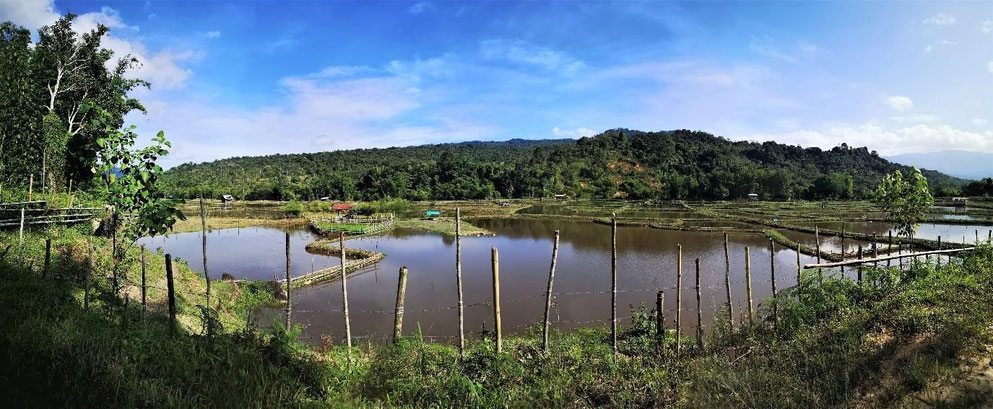 The trek starts from Puneng Trusan village, the furthest upstream village of Long Semadoh Valley. It passes by paddy fields.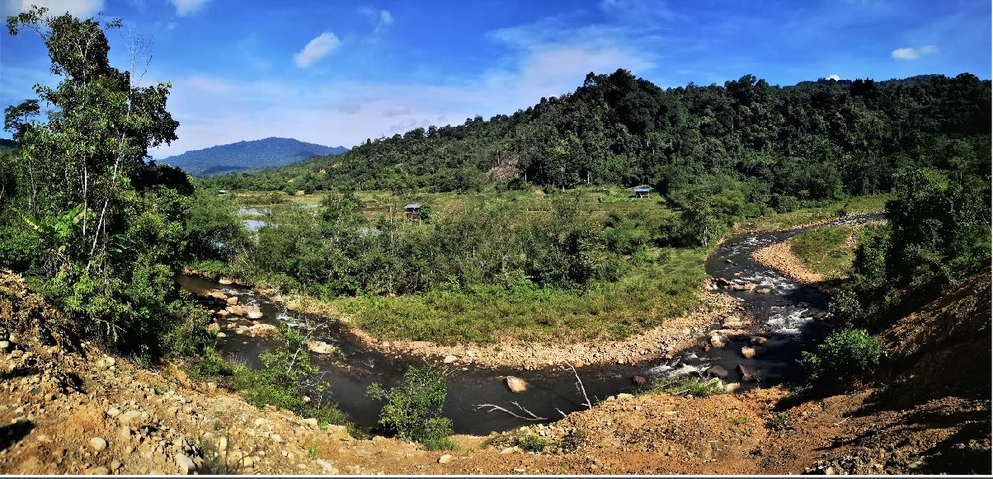 The trek will be meandering along the Trusan river, the main river of Long Semadoh for 3Km
Along the way, the local guide will point out plants that the community uses, either for medicinal purposes, cooking vessels
or as foraged food.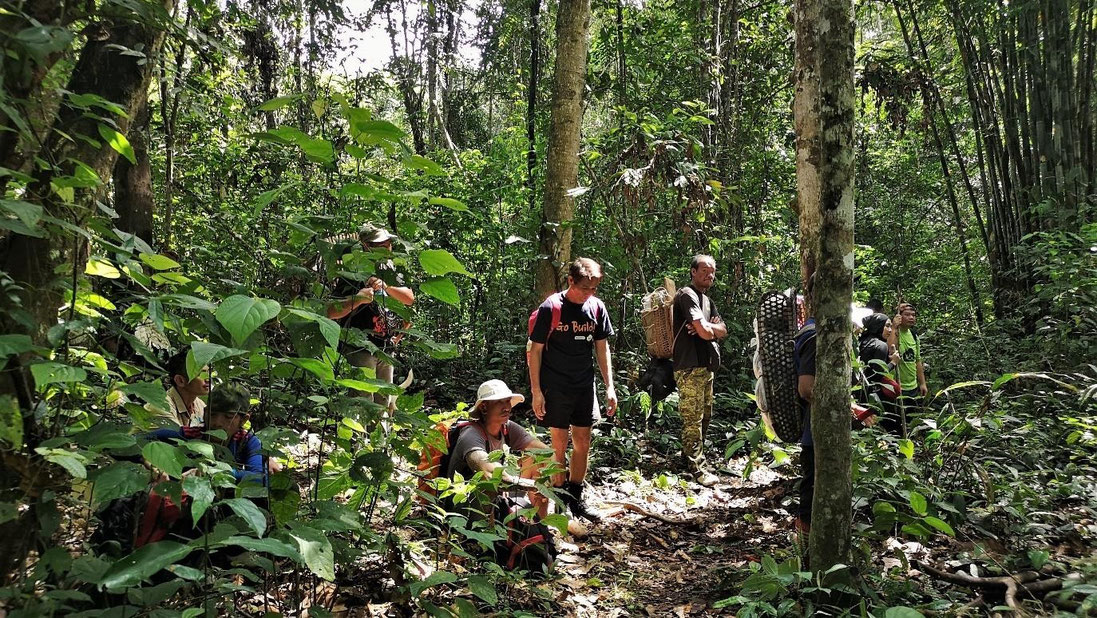 There will be periodic rest stops to point out historical sites where the villagers used to do shifting cultivation.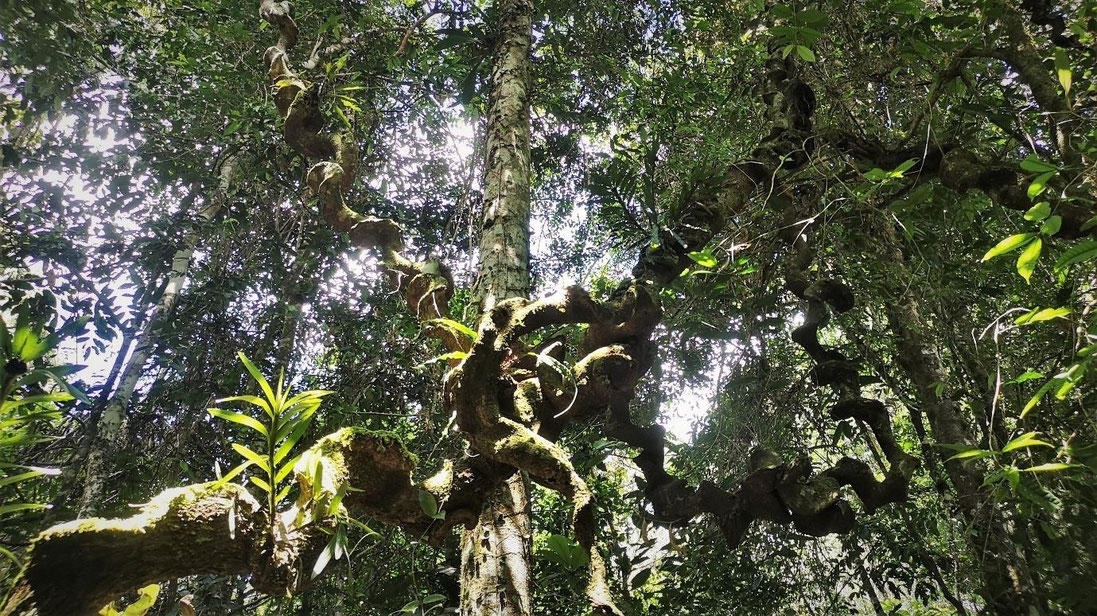 Endemic species and special uses such as this "imang" vine which were traditionally used as body and hair soap.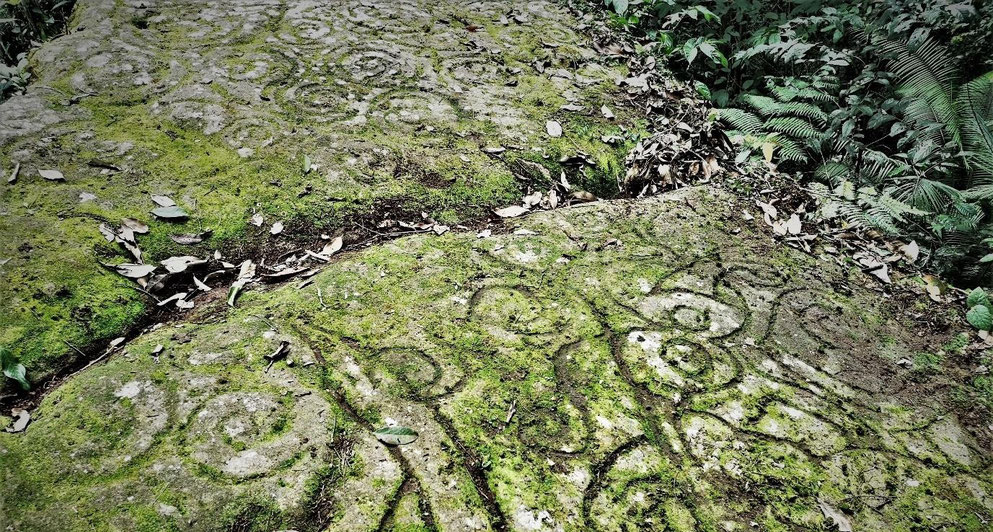 There will be a pit stop at Batu Inarit (carved stone) where the folklore of the Lun Bawang will be shared over lunch. The packed lunch from the homestays will feature some traditional Lun Bawang dishes such as nuba laya (leaf-wrapped rice), in- season foraged greens, keropok beras (rice crackers), etc.
From Batu Inarit onwards, the trek will be ascending for the last 4Km before we arrive at the campsite. Midway, there will be a rest shop just beside the Buayeh Tana' (crocodile mound) where the historical and cultural past of the Lun Bawang people will be shared. The Buayeh Tana' is a relic from the Lun Bawang people's headhunting past. Everyone should arrive the campsite (1350m asl) before nightfall. There are some basic toilets (leftmost in the picture below)

The group can take a shower in the nearby stream (the water is usually freezing because of the higher altitude), and then warm up by the fire getting a drink while dinner is being prepared. 
If the sky is not overcast, stargazing is recommended before bed. The milky way is in 'season' between March and September.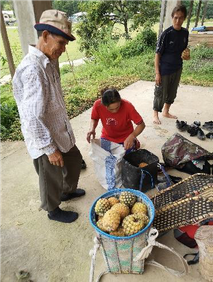 Upon arrival in Puneng Trusan, the participants can choose to visit the pineapple fields and harvest them should they be in season (usually July is the harvest season) before being transported back to their homestays.
Instead of retracing the route, This 2D1N trek can be extended to end in Long Pa' Sia', Sabah but separate arrangements need to be made in Long Pa' Sia' for their guides to meet the participants at the halfway campsite to lead them for the rest of the leg to Long Pa' Sia'.
There are a list of other ecotourism trek that has been mentioned by the local community but have not been recce'ed:
o   Kayu Buda (white tree) trek nearby Puneng Trusan that goes through virgin rainforests and are apparently full of gigantic timbre trees. There is supposedly also a waterfall along the way
o   Ridge walk from Long Beluyu to Puneng Trusan. The mountain range that makes up one side of the valley of Long Semadoh is said to have connected ridges and it can potentially be a leisurely 2D1N trek with panoramic views of the valley. It used to be a hunting trail, but after years of neglect, it may need quite a bit of effort to reopen the trek
o   Lubang Sineh – a 2D1N trek away from Long Semadoh B, the story goes that this rocky outcrop was a hiding spot for an elder 'Sineh'
o   Ruma Batu – 1 Day trek from Long Beluyu, a complex of rock formations that resemble a longhouse. The story goes that the inhabitants of the houses were cursed and everything was frozen in stone.
Ecotourism in pristine places like Long Semadoh ought to focus on thematic experiences, be it nature-related like treks, birding; historical-related like the relics or cultural like foraging and farming. This incentivises the community to protect and conserve their environment and sustainable way of life. 
As a reference, I'm attaching the itinerary of our "Harvest Experiential Trip" that we run during harvest season between late December and early January every year.
5D4N Itinerary (Full Board)

Arrive in the quaint town of Lawas, Sarawak. Fill your tummy with a simple lunch and begin your journey into the highlands, en route to Long Semadoh Valley.
Brave the 5 hours bumpy 4x4 off road ride to arrive at your local homestay. Wind down with dinner and an early night in the village.

Trek through history in a 1 hour scenic walk starting from the Long Semadoh airport towards the village of Long Tanid. Discover the story of the Lun Bawang people through remnants from the past.
Take time to reflect and enjoy nature as is in the evenings.

Head to the fields and start harvesting with the farmers. Gain an insight into the various traditional processes involved in turning paddy into rice. 
Fill your afternoons with casual learning sessions. Learn about indigenous food through foraging and the making of various traditional rice-centered meals.

Stop over at Long Lidung Village to visit the freshwater river fish conservation. This is a community-run project headed by a passionate local, Pak Raut. You will be get to soak your feet in the river and maybe even get a natural fish spa session! Arrive in Lawas by noon. End of tour.
Itinerary:
Day 1
1pm : Arrive in Lawas, Sarawak
3pm : Depart Lawas to the village of Long Semadoh Naseb in Long Semadoh Valley. 
8pm: Arrive at local homestay / Dinner & rest
Day 2
9am: Mini tour of Long Semadoh Valley
Trek through history in a 1 hour scenic walk starting from the Long Semadoh airport towards the village of Long Tanid. Discover the story of the Lun Bawang people through remnants from the past. 
11am: Brunch by the river (picnic style) and enjoy a cold dip. 3pm: Free and easy
Day 3 & 4: (Monday & Tuesday)
7am: Breakfast
7.30am: Head to the paddy fields and start harvesting with local farmers. 12pm: Lunch by the field 
2pm: Back to the fields for round 2. 6pm: Dinner & rest
Day 5 (Wednesday)
7.30am: Depart from Long Semadoh to Lawas
Stop over at Long Lidung Village to visit the freshwater river fish conservation. 12pm : Arrive Lawas
Price Details:
Fee Includes
1.       Ground transportation by 4x4 covers duration of travel mentioned in the 5days 4 nights itinerary only.
2.       All basic meals for the duration of the trip are covered. Additional F&B purchases during pineapple festival are not included.
3.       Entrance fee to Long Lidung village's river conservation site.
4.       Travel insurance for duration of tour (Malaysians only).
Fee Excludes
 1.       Flights or transportation to town of Lawas, Sarawak.
 2.       All cost incurred during free & easy sessions.
 3.       Optional entertainment & activities.
Accommodation: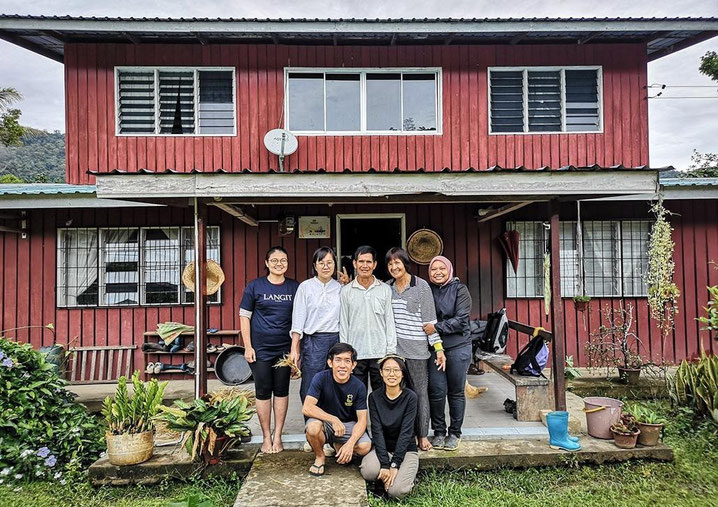 Getting to Lawas
You will need to make your way to the town of Lawas in Sarawak. On arrival day, you must arrive Lawas by 2.30pm. On departure day, please book your travel to leave Lawas after 12pm.
There are 4 travel options for your consideration: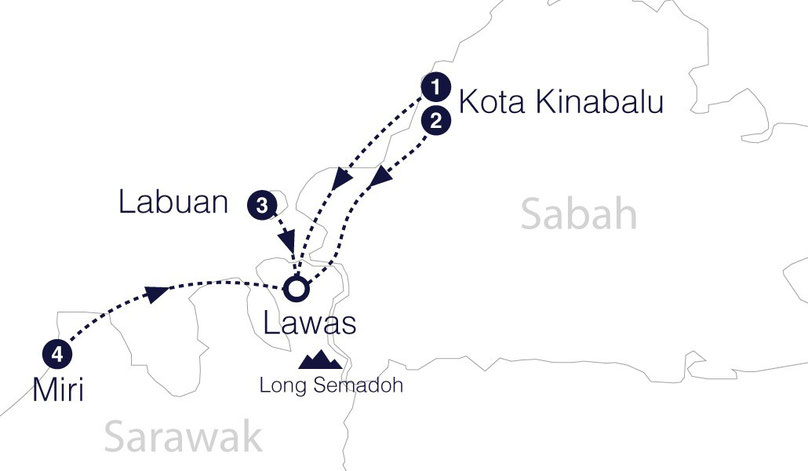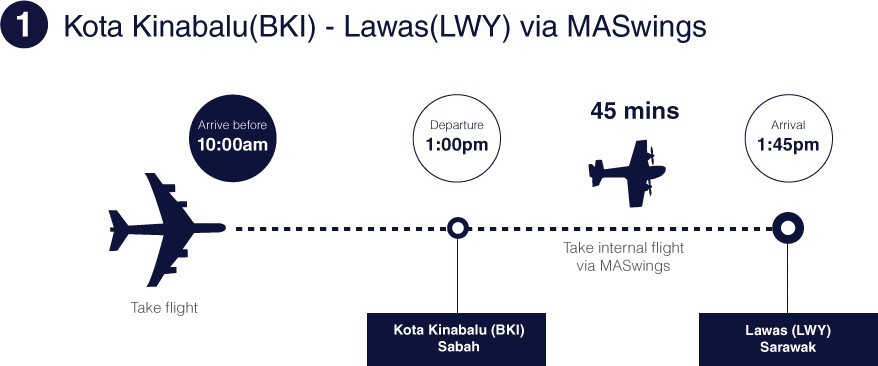 Fly in to Kota Kinabalu, Sabah and take an internal flight via MASwingsto Lawas. ( Must arrive Lawas before 2.30pm)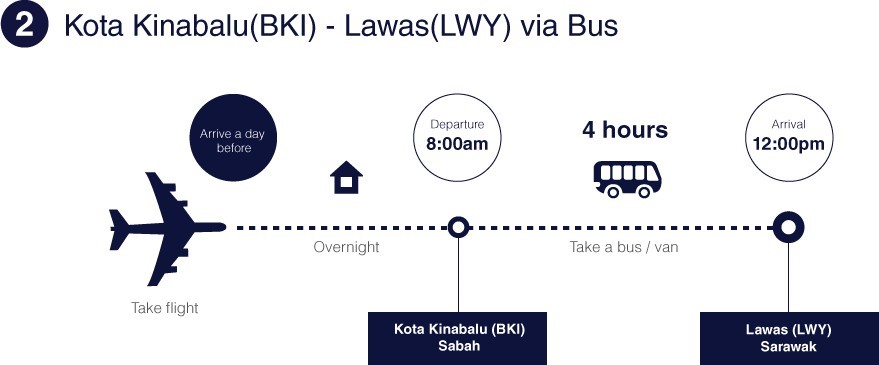 Fly in to Kota Kinabalu (KK), Sabah and take a bus/ van to Lawas.
*you will have to spend a night in KK town before travelling date. Bus leaves from KK to Lawas at 8am. You can purchase bus ticket and board from the bus station right in front of Sabah Court House map here*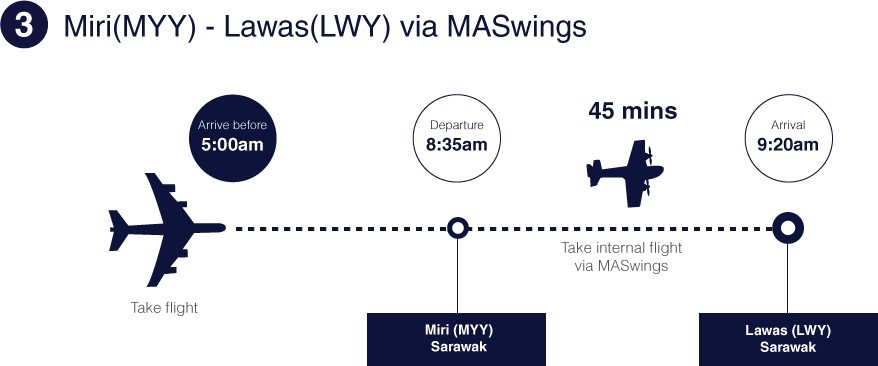 Fly in to Miri, Sarawak and take an internal flight via MASwingsto Lawas. ( Must arrive Lawas before 2.30pm)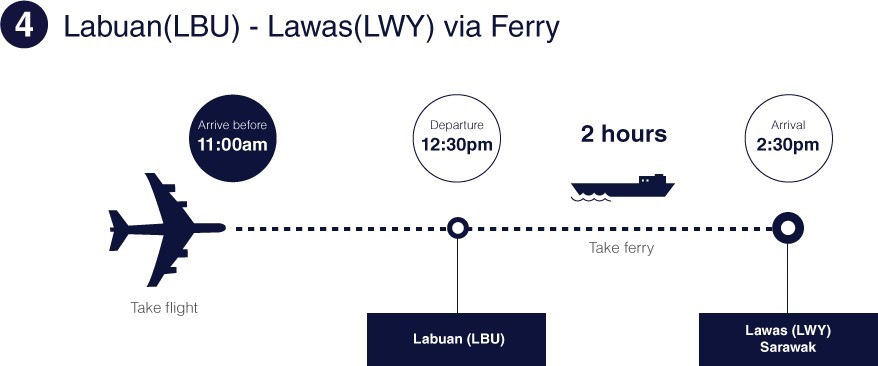 Fly in to Labuan Federal Territory and take a ferry to Lawas. (Ferry operates: Daily except on Wednesday)
·       Travellers must be in good physical condition without any medical complications.
 This backpacking/adventure style trip requires an independent spirit and an open mind..
 Be mentally prepared for bumpy roads in the mountainous region, and/or potential delays due to weather conditions.
 Village surroundings are basic and can be muddy when it rains.
 Communication. Telco connectivity is unreliable and mostly unavailable at most times. Maxis works best when connectivity is available.
 Insect repellent
 Outdoor gears and shoes suitable for all terrain trekking , jacket for cold nights.
 Torchlight